Roll over image to zoom in
Description
OFC wire with gold-plated technique provide clear sound when you gaming, practical and durable. The cable has 2 different size ends, a 3.5mm 4 pole and a 3.5mm 5 pole. The 5 pole connection with the headset, and the 4 pole connection Xbox One, Smartphone or MixAmp or the PC Splitter.

The A40 Audio Jack Cable adjusts to your console or PC setup with ease and is designed to connect your headset to any Xbox One, PS4, or PC via a 3.5mm jack.

This cable length is 2m , with remote control stand by volume control, switch and pause music that satisfy most circumstances, is practical and portable.

Compatible device with a 3.5mm aux port, such as Astro A10/A40 gaming headset, car stereo, portable wireless bluetooth speakers, tablets & laptops, Mp3 players, computers, walkman, wireless audio receivers, radios ect.

Colour:Black.

Package:1*A40/A10 Replacement Audio Cable.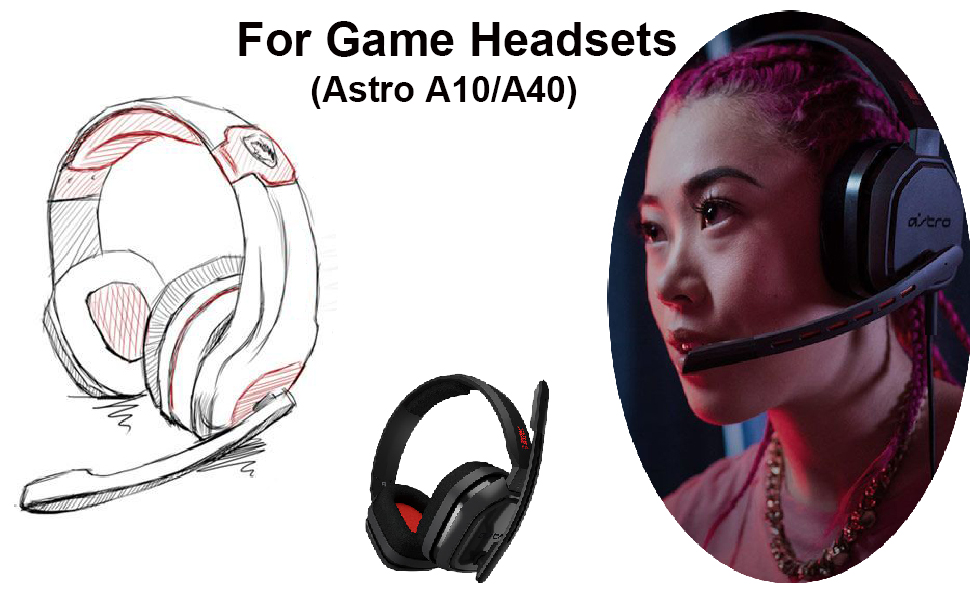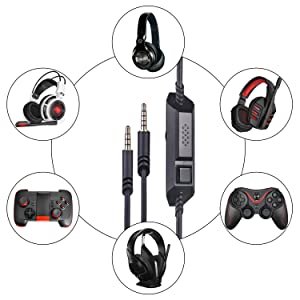 A40& A10 Replacement Audio cable


This 3.5mm audio jack replacement cable with volume control will allow you to connect your Astro A10 or A40 gaming headset to your Xbox One controller, MixAmp or PC and Macs with a combined mic/headphone.
Replacement Astro A10 A40 cable with two modes: A & B. The "mode switch" can be found at the back of the inline control module. Mode A is recommended for Xbox One, PS4, Nintendo Switch and PC gaming. And Mode B is recommended for making mobile calls or listening to music.
Quality and Durable: OFC copper wire audio cable, gold plated connectors for anti-oxidation, corrosion resistance, ensure a solid and high quality connection between the connected devices. Premium material, elastic, soft and durable. Tangle free design.
This Astro cable cord replacement has 2 different size ends, a 4 pole and a 5 pole. The 5 pole 3.5mm audio jack goes into the headset, and the 4 pole 3.5mm audio jack goes into the MixAmp Pro or the PC Splitter.
Delivery Policy
Deliver

 Everyday
Delivery Between 3 pm to 10 pm, 
last today's order at 7 pm
  التوصيل بين 3 الى  10 ليلاً, 
اخر طلب توصيل بنفس اليوم الساعه 7 ليلاً
We Deliver to: نوصل للمناطق التالية
Al-Asma Areas مناطق العاصمة السكنية
Jahra Areas مناطق الجهراء السكنية
Hawally Areas مناطق محافظة حولي
Farwaniya Areas مناطق محافظة الفروانية
Mubarak Al-Kabeer Areas مناطق محافظة مبارك الكبير
Ahmadi Areas مناطق محافظة الأحمدي السكنية
-
We Don't deliver to لا نوصل للمناطق التالية 
* Sabah Al Ahmad  صباح الأحمد
* Ali Sabah Al Salem على صباح السالم - ام الهيمان
Return & Refund policy
You can return the item(s) within 14 days:
+ Manufacturing defects. العيوب المصنعية
+ In Original Condition (Unopened or Sealed). يكون بحالته الاصلية
You can't return:
- Opened product box or unsealed.
  * Games after open.
  * Electronics in open box (Consoles, Controllers, Headset and/or any Accessory.)
- Cards Code After Sent.
- Chairs after assemble. 
 For any question, contact us on the contact page. 
We refund within 3 working days.
Payment Methods طرق الدفع