Roll over image to zoom in
Description
EGT574 height adjustable glowing gaming desk

The new Gaming Desk 3.0 from Eblue features a smaller and sleeker design that is suitable for most gamers. This height adjustable desk features Icey Blue lighting and a unique graphical design on the desk mouse pad.


Ergonomic shaped, anti-scratch desktop supports arms perfectly.
Extended desktop delivers great hands & arms support.
Durable "I" shape metal structure with for durability & stability.
Fully covered by a large mouse pad material on surface.
Unique side decoration parts with Ice Blue Glowing effect.
With cable management net under the desktop to collect cables.
USB plug (5V), easily to light up the decorative light.
3 adjustable height levels : 740 | 805 | 868mm
Packaging dimension : 1128 x 910 x 105 mm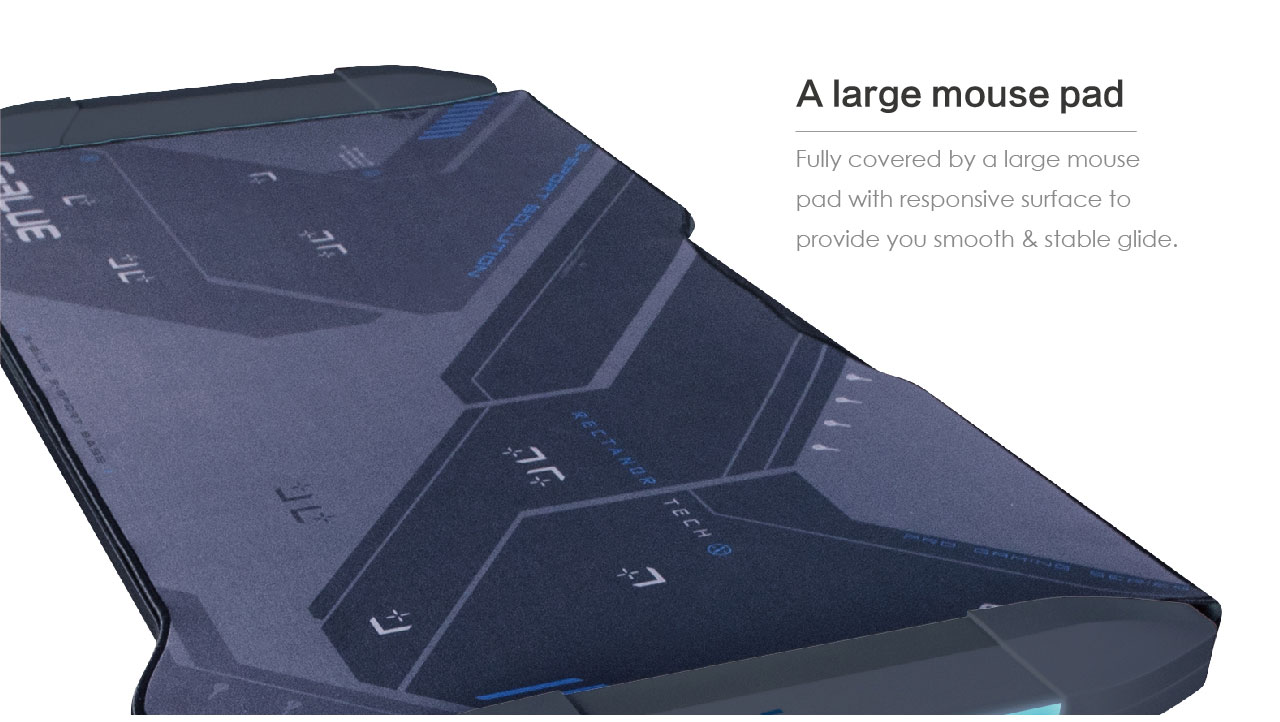 Delivery Policy
Deliver

 Everyday
Delivery Between 3 pm to 10 pm, 
last today's order at 7 pm
  التوصيل بين 3 الى  10 ليلاً, 
اخر طلب توصيل بنفس اليوم الساعه 7 ليلاً
We Deliver to: نوصل للمناطق التالية
Al-Asma Areas مناطق العاصمة السكنية
Jahra Areas مناطق الجهراء السكنية
Hawally Areas مناطق محافظة حولي
Farwaniya Areas مناطق محافظة الفروانية
Mubarak Al-Kabeer Areas مناطق محافظة مبارك الكبير
Ahmadi Areas مناطق محافظة الأحمدي السكنية
-
We Don't deliver to لا نوصل للمناطق التالية 
* Sabah Al Ahmad  صباح الأحمد
* Ali Sabah Al Salem على صباح السالم - ام الهيمان
Return & Refund policy
You can return the item(s) within 14 days:
+ Manufacturing defects. العيوب المصنعية
+ In Original Condition (Unopened or Sealed). يكون بحالته الاصلية
You can't return:
- Opened product box or unsealed.
  * Games after open.
  * Electronics in open box (Consoles, Controllers, Headset and/or any Accessory.)
- Cards Code After Sent.
- Chairs after assemble. 
 For any question, contact us on the contact page. 
We refund within 3 working days.
Payment Methods طرق الدفع