Roll over image to zoom in
Description
Key HD Camera Features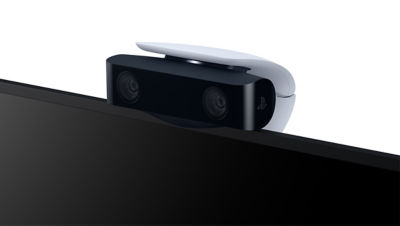 Personalize Your Gameplay Sharing
1080p capture: Capture yourself in smooth, sharp full-HD with the camera's dual wide-angle lenses as you live out your most epic gaming moments. Quickly create a recording or a broadcast of yourself and your gameplay, with your DualSense™ wireless controller's create button*.
Built-in stand: Get the perfect shot with the HD camera's built-in adjustable stand. Its compact design allows it to be securely positioned above or below TVs – where you can fine-tune the angle to suit your set-up.
Background removal tools: Take center stage in your productions using the PlayStation®5 console's built-in background removal tools. With the HD camera, you can add yourself to your gameplay videos while broadcasting* in picture-in-picture mode, with the ability to crop the background or lose it completely with a green screen.
Delivery Policy
Deliver

 Everyday
Delivery Between 3 pm to 10 pm, 
last today's order at 7 pm
  التوصيل بين 3 الى  10 ليلاً, 
اخر طلب توصيل بنفس اليوم الساعه 7 ليلاً
We Deliver to: نوصل للمناطق التالية
Al-Asma Areas مناطق العاصمة السكنية
Jahra Areas مناطق الجهراء السكنية
Hawally Areas مناطق محافظة حولي
Farwaniya Areas مناطق محافظة الفروانية
Mubarak Al-Kabeer Areas مناطق محافظة مبارك الكبير
Ahmadi Areas مناطق محافظة الأحمدي السكنية
-
We Don't deliver to لا نوصل للمناطق التالية 
* Sabah Al Ahmad  صباح الأحمد
* Ali Sabah Al Salem على صباح السالم - ام الهيمان
Return & Refund policy
You can return the item(s) within 14 days:
+ Manufacturing defects. العيوب المصنعية
+ In Original Condition (Unopened or Sealed). يكون بحالته الاصلية
You can't return:
- Opened product box or unsealed.
  * Games after open.
  * Electronics in open box (Consoles, Controllers, Headset and/or any Accessory.)
- Cards Code After Sent.
- Chairs after assemble. 
 For any question, contact us on the contact page. 
We refund within 3 working days.
Payment Methods طرق الدفع