Roll over image to zoom in
Description
Key DualSense Charging Station Features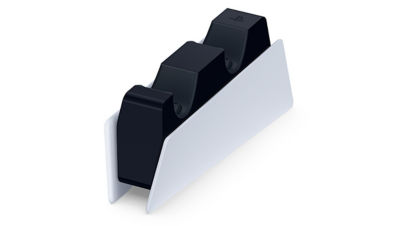 Click. Charge. Play.
Charge two controllers: Charge up to two DualSense wireless controllers at the same time without having to connect them to your PlayStation 5 console.

Free up USB ports: Your controllers charge as quickly as when connected to your PS5™ console – so you can free up USB ports without sacrificing performance.
Click-in design: Dock your DualSense wireless controllers quickly and easily with the charging station's click-in design and leave them to charge at your convenience.
Delivery Policy
Deliver

 Everyday
Delivery Between 2 pm to 10 pm, 
last today's order at 7 pm
  التوصيل بين 2 الى  10 ليلاً, 
اخر طلب توصيل بنفس اليوم الساعه 7 ليلاً
We Deliver to: نوصل للمناطق التالية
Al-Asma Areas مناطق العاصمة السكنية
Jahra Areas مناطق الجهراء السكنية
Hawally Areas مناطق محافظة حولي
Farwaniya Areas مناطق محافظة الفروانية
Mubarak Al-Kabeer Areas مناطق محافظة مبارك الكبير
Ahmadi Areas مناطق محافظة الأحمدي السكنية
-
We Don't deliver to لا نوصل للمناطق التالية 
* Sabah Al Ahmad  صباح الأحمد
* Ali Sabah Al Salem على صباح السالم - ام الهيمان
Return & Refund policy
You can return the item(s) within 15 days:
+ Manufacturing defects. العيوب المصنعية
+ In Original Condition (Unopened or Sealed). يكون بحالته الاصلية
Electronic Devices (Defect or Issues) Contact:
للاجهزه الاكترونية (للمشاكل او عيوب مصنعية) يرجى التواصل:
* Phone الهاتف: 94936220
* Location: Hawally, Al Rihab Complex, Basement, Shop 625 (Warshatkom)
مجمع الرحاب ,السرداب ,محل 625 (ورشتكم)
* Headset, Controllers, Consoles.
السماعات , اليدات, الاجهزة
You can't return:
- Opened product box or unsealed.
  * Games after open.
  * Electronics in open box (Consoles, Controllers, Headset and/or any Accessory.)
- Cards Code After Sent.
- Chairs after assemble. 
 For any question, contact us on the contact page. 
We refund within 3 working days.
Payment Methods طرق الدفع